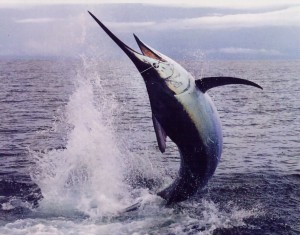 Plan on hosting a fishing tournament or fishing derby in the near future?  Looking to increase excitement and give anglers a chance at "reeling in" the dough during the event?  Then how about running one big State Record Weight promotion, featuring multiple species of fish, just as this particular marina in the Gulf Coast did!
For a 3-day period, 300 anglers at this fishing tournament were all in a race to catch various species of fish (yellowfin tuna, dolphin, wahoo, and blue marlin) and weigh them in to see if they would become the new State Record Weight holder for any of the aforementioned species of fish.
After weighing in their "catches of the day" on the official tournament scales, anyone who managed to beat the former State Record Weight for the respective species of fish would win anywhere between $50,000 – $250,000, depending on the species… and Odds On Promotions would have cut a check for the prize amount!
State Record Weight promotion not appealing to you?  No problem!  Odds On insures multiple fishing promotions, including (but not limited to) tagged fish promotions, matching weight promotions, fishing prediction promotions… and many more!
Call Odds On Promotions today at 888-827-2249 for a free, no-obligation quote and more information.  You can also email us to request a copy of our Top 5 Fishing Promotions PDF, which includes details about the most popular fishing contests we have to offer!