Want to make sure your holiday shopping season is merry and bright? Increase your traffic and sales by giving customers the chance to win life-changing prizes and lots of cold, hard cash, courtesy of Odds On Promotions. Check out these fun and affordable holiday promotions.
Holiday Movie Millionaire!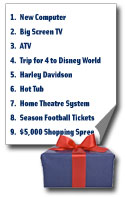 A Christmas Story.  The Year Without a Santa Claus. Home Alone … Everyone has a favorite holiday movie  and that's exactly what makes this promotion so much fun!  You'll send us a list of holiday classics – be it movies, books or songs, and our promotion elves will put it in a predetermined order. If one of your lucky contestants can put those same selections in the exact same order, they'll become an instant holiday millionaire, and Odds On Promotions will write the check!
Holiday Cash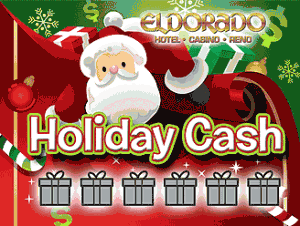 'Tis the season to give your customers the chance to Scratch, Match & Win some "Holiday Cash!", paid for by Odds On Promotions. This promotion is ideal for sports venues, casinos and even shopping malls. Odds On Promotions will create a custom Scratch, Match and Win card featuring your or your sponsor's logos plus a bounce-back offer (or contact form) on the reverse. Simply distribute the cards and advise contestants to be present to watch a video reveal at a predetermined time. If the numbers on the contestant's card match those on a customized video playback, they score some holiday dough, and Odds On Promotions will be there to pay for the prize! The back of each card is customizable to either have a contact form for running a "return to win" drawing or a bounce-back coupon to pique those post-holiday sales.
Request More Information
What's in Santa's Sleigh?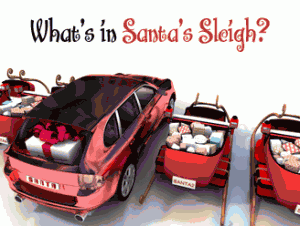 Showcase merchandise and drive traffic during the holiday shopping season with a "Holiday Wish List" or "What's in Santa's Sleigh?" Lucky List promotion. Select between 7 and 10 incredible prizes, such as $500 gift cards, 3-D televisions, all-expense paid vacations, brand new cars, you name it – and we'll put them in a secret order. If one of your contestants can put your list of prizes in just the right order, Odds On will play Santa and give them everything on their list.
Request More Information
Pick Your Present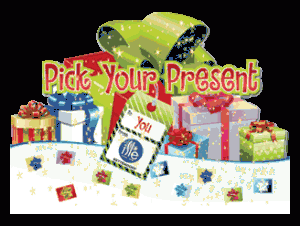 Showcase your merchandise, brand, stores or sponsors while giving your customers (or listeners and viewers) the chance to win up to $1,000,000, courtesy of Odds On! Odds On Promotions will ship you a game board with various "gift boxes" displayed along with our Lucky Envelopes, each containing a different dollar amount. Qualify your contestants in any way you choose and invite your finalists back for a chance to "Pick a Present". Contestants then select three "gifts from the game board, and if the contents of the gifts add up to 100, Odds On will reward them with the grand prize, up to a $1,000,000 prize. If they didn't find the correct three gifts, they get to keep the contents of the gifts they revealed, or another prize based on the dollar total they have collected!
Request More Information
Winning Wonderland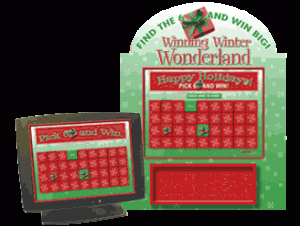 Turn your business into a Winning Winter Wonderland with Odds On Promotions' Video Scratch and Win Game where your customers win prizes based on how many "presents" they can unveil on the game's touchscreen grid. If they find all six, they'll take home the $100,000 grand prize, courtesy of Odds On. The game can be programmed to award up to 6 consolation prizes and/or bounce-back offers in any number you choose. Best of all, it plays a catchy holiday tune!
Request More Information
Remember: you can always request more information on any of these promotions or give us a call at 888-827-2249 for pricing information.  Nothing quite catching your eye?  That's okay — you're always welcome to share your own holiday promotion ideas with us!  Happy Holidays from Odds On Promotions!