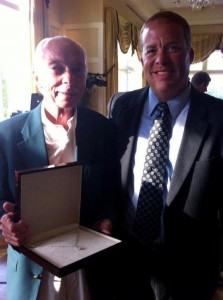 Now here's a prize winner worth discussing:
Richard Ross of Grand Rapids, Michigan won an 18k white gold diamond necklace valued at $35,000, provided by Thomas S. Fox Diamond Jewelers and paid for by Hole In One International, during a hole in one contest at the Crystal Invitational at Cascade Hills Country Club on July 13, 2012.
While this was Ross' fifth hole-in-one to date, it was also a first, as Ross had never previously won an insured hole in one prize prior to his ace on the 150-yard 11th hole.
Be sure to read the full story here on Hole In One International's recent press release!
Hole In One International insures a variety of golf-related contests, such as hole in one contests, putting contests… and even Million Dollar Shootouts!  To receive a free, no-obligation quote and more information on any of the insurance packages they have to offer, give them a call today at 800-827-2249… or email them at any time!
And of course, congratulations again to Richard Ross! We hope you're enjoying your well-earned prize!