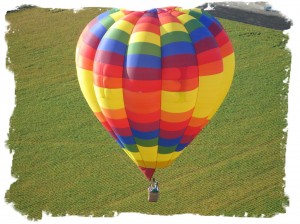 Attention radio stations!
Looking to increase awareness? Want to increase excitement among your listeners?
Here's an idea worth stealing idea from a Texas radio group that's combining balloons, jumbo dice and giant prizes into one headline-grabbing promotion.
At an upcoming live appearance (aka remote) a lucky fan will be chosen via raffle and will get the opportunity to drop 2 dice from a (get ready for it) … hot air balloon!
That's right: the chosen contestant will be rolling two 16″ dice from 30 feet in the air.  If both dice drop to the ground with the radio station's logo landing face-up, they'll win $10,000… paid for by Odds On Promotions!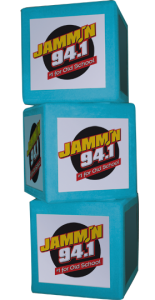 Surely you're wondering what other items can be 'dropped' and in what other fashion.  How about Odds On's golf ball drop promotion?  Golf ball drop promotions are typically held using a helicopter, but we encourage our clients to think outside the box and let us know of any other ideas they have in mind.  Whether it's a hot air balloon, hook-and-ladder, cherry picker, crane or otherwise… we can insure it!
Another alternative would be a G.I. Joe Parachute Drop promotion; a unique promotion where numbered G.I. Joe dolls with parachutes are sold and dropped en masse.  Drop the dolls from the roof of a building or local bridge,  then set up a target landing point on the ground.  If the preselected lucky G.I. Joe doll lands within the target area, your contestant goes home with the prize… again, compliments of Odds On!
Keep in mind – anything can technically be dropped, whether it's a rubber duck, miniature NERF football, a beach ball dropped into a body of water, or even turkeys (just make sure they're not live ones!) … you name it, we can do it!
Need more ideas on "drops?"  Give us a call today at 888-827-2249 or email us!  Let us know if you have anything unique in mind, or if you'd like us to help you custom tailor a "drop" promotion that's best suited to your business/event!