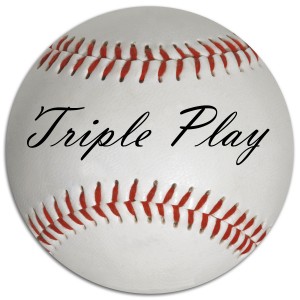 Odds On Promotions would like to congratulate the Toronto Blue Jays on the Triple Play that occurred during their game against the Kansas City Royals on April 20, 2012.
Talk about a historic moment… this was Toronto's first triple play in 33 years! (Their last Triple Play occured on Sept. 21, 1979, against the New York Yankees.)
Did You Know..?
Big plays such as a grand slams, triple plays, no-hitters and yes, "the perfect game" can all be insured by Odds On Promotions for up to $1,000,000 in prizes?  And you dont have to have a Major League budget to insure a prize play promotion!
Odds On Promotions can not only help provide you with A-rated underwriting and outstanding customer service from any one of our promotion specialists, but we'll be there to write a big, fat check whenever your selected play occurs!  $10,000, $50,000 $100,000… even $1,000,000 — the prize you want to insure is strictly up to you.
Are you ready to play ball and give one lucky individual a chance to 'score big', courtesy of Odds On?  Give us a call today at 888-827-2249!  You can also email us if you prefer!