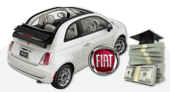 Give new graduates, soon to be college freshmen, and of course, their parents, the chance to win a brand new car (or a year's worth of tuition) for opening a new account or visiting your branch with a traditional, or online, Lucky Number Match.
You'll create a custom mail piece featuring a unique Lucky Number. If the number on their mail piece matches the lucky number posted at your designated location, they'll drive home a winner, and Odds On Promotions will pay for the prize!
Sound good to you?  Then give us a call for more information and a free, no-obligation quote today at 888-827-2249.  You can also email us any time!