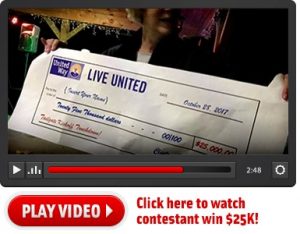 Kickoff Return Winner Scores $25K at United Way Fundraising Event
Odds On Promotions Writes the Check
Mill Hall, Penn. – Congratulations to kickoff return winner Deana Hill who recently won $25,000, courtesy of the Clinton County United Way, and paid for by Odds On Promotions, during the PSU Tailgate Party at Haywood's On the Green.
To raise some funds (and have some fun), the Clinton County United Way threw a tailgate party during the Penn State vs. Ohio State football game.
For $10, participants could watch the game on two big screens, enjoy a bonfire as well as food and drink specials, and dance the evening away with a live band after the game.
To generate additional excitement and draw an even bigger crowd, the United Way gave everyone who purchased a ticket the chance to win $25,000 if a Penn State player returned the opening or second half kickoff for a touchdown.
As luck would have it, Saquon Barkley returned the opening kickoff 97-yards for a touchdown, ensuring one lucky attendee would win the giant-cash prize. After the game, Deana Hill's ticket was randomly drawn and she scored the $25,000 prize.
Looking for a creative way to raise more money for your cause? Want to turn any bowl game into a big prize party with your own kickoff return winner? Email or give Odds On Promotions a call today at 1-888-827-2249.