Spring Casino Promotion Ideas…
Million Dollar Moo-lah
Electronic-Game Board Promotion
Entertain a crowd while rewarding your players with the chance to win massive amounts of cash with one Odds On's May Moolah electronic-Game Board!
Players simply select three barn symbols on the larger than life game board to reveal a dollar amount. If the total adds up to $1,000, your player will win your grand prize, up to $1,000,000, paid for by Odds On! Or, they win the total dollar amount they accumulated, making it easy for you to run a rewarding and engaging floor promotion, without giving away the farm.
This game is available in a variety of kiosk platforms ranging from an attention-commanding 80″ giant touchscreen to a handy portable tablet that's perfect for your next midweek Hot Seat promotion. On a budget? This game can also be played using Odds On's Lucky Envelopes!
---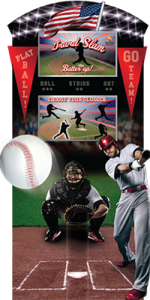 Batter Up Bucks
Grand Slam Deluxe Kiosk Game
Give your players the chance to Swing, Play and Win big this Spring with our baseball-themed kiosk game, Grand Slam! Players simply swipe their club card and select a slugger, and start rooting for a home run. If your player has made just the right pick, they will instantly score your grand prize, and Odds On will write the check.
This promotion also offers a collect to win game piece and a built in drawing ticket option to keep your players coming in daily to play and win. Tip: Drive additional carded play by giving players an extra daily swipe based on club points earned.
---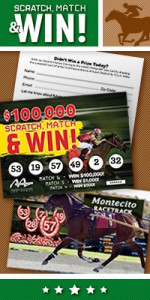 Scratch, Match & Win
Video Board Promotion
Want to give away some Derby Dough, offer a Preakness Payout, or hand-out some Belmont Bucks as one of your Spring casino promotion ideas? Looking to capture more bettors and drive more play at your track, racino or sports book? Odds On's customizable Scratch, Match and Win cards are a very affordable way to give a lot of players, the chance to win big!
Here's how it works: Odds On will customize a 3″ x 4″ scratch card featuring your logo, and a custom bounce-back offer. Simply distribute cards in any method you choose: any player attending your "Derby Party", custom matrix based upon points earned, or to race fans as they arrive to "watch and wager". Instruct players to "scratch" off their cards, and watch your video board(s) for their chance to win.
If the numbers on the player's card match the ones revealed on the customized video playback, Odds On will create for you, your lucky fan will win $100,000, and Odds On will write the check. Award consolation prizes for matching fewer numbers. This promotion can be customized to suit a variety of in-house/on-track video broadcasting systems or any sports/entertainment venue, or ask us how you can turn this into a Direct Mail based promotion.
---
Looking for more Spring casino promotion ideas for your property that will assist in driving foot traffic and increasing play? Give Odds On Promotions a call today at 888-827-2249, or email us for more information!