Dadeville, Ala. – Imagine winning $1,000,000 – or a brand-new bass boat – just for doing a little fishing. Just a few short weeks ago, Rufus "Bubba" McNeill won a $50K Skeeter Bass boat, paid for by Odds On Promotions, after he caught a tagged fish during the OGS "Crank for Bank" fishing tournament.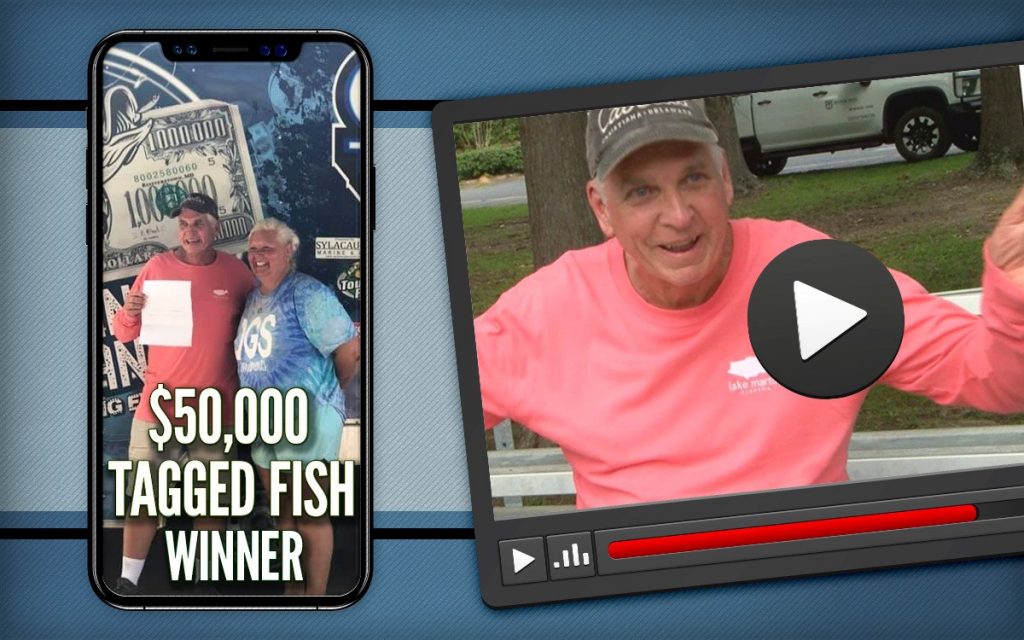 Watch the news interview on Bubba's big catch!
For the second year in a row, OGS Fishing Tournaments gave anglers the chance to win over $1,000,000 in cash and prizes in an innovative 13-week "virtual" tagged fish contest called Crank 4 Bank.
From April 1st until July 4th, anglers could purchase a $100 entry, register on the Fishing Chaos app, and submit photos of the fish they caught on Lake Martin for a chance to win cash and prizes. In addition to winning prizes based on the size of their catch, if an angler caught a tagged fish, they were eligible to win additional prizes if their tag matched one of preselected "lucky" tags.
"It's our second year doing the event," explains Vivian Autry, co-owner of OGS. "We tagged 200 fish and if you were registered you got the chance to win a million dollars, a bass boat, a Chevy pickup truck, or $1,500. We're going to do this next year. But I think we're going to up the ante a little bit and maybe there might be a $2 million fish floating out there in the water."
Want to make your next tournament, fundraiser, sales promotions, or special event a million-dollar attention-grabber? Want to run a tagged fish contest of your own? Odds On can help. We have hundreds of creative ways to help you capture headlines, drive traffic and increase sales. Email or give us a call today at 888-827-2249.