Newport, Ky. – Congratulations to Bradley Wolfzorn, who won a two-year lease on a new car from Jake Sweeney Automotive, paid for by Odds On Promotions, after sinking an impressive 94-foot, on-court putt at a Northern Kentucky University men's basketball game in December.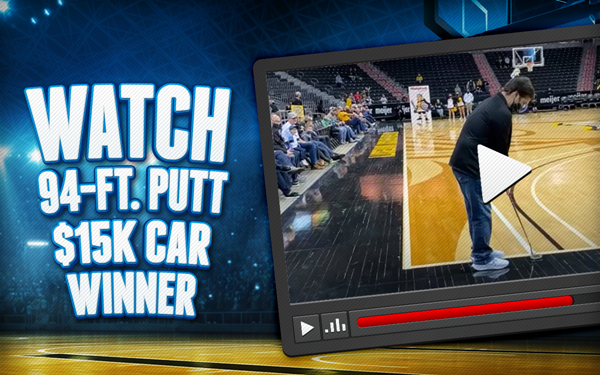 The on-court putting contest, which is sponsored by Barleycorn's, gives a randomly selected fan the chance to make a 94-foot putt to score a new ride.

After Wolfzorn was randomly selected at the game, he hit an impressive, fast-moving putt that flew across the BB&T Arena hardwood and through a template placed on the farside of the court.  

"The hardwood is so much faster than an actual green, so everything must be in perfect alignment to sink it," said Joe Heil, Barleycorn's vice president of operations and longtime NKU Norse basketball sponsor. "This putt had the speed and the accuracy. It was thrilling to watch!"  

This was the second winner for NKU and Barleycorn's insured by Odds On Promotions. Michael Meier of Edgewood, Kentucky won $5,000 for a 94-footer in February of 2020.

Want to put your business at center court this season? Give us a call today to learn about big-prize basketball promotions.