Reno, Nev. – How do you beat giving away $300,000 on Super Sunday? By doing it two years in a row! After handing out $100,000 to three lucky players following Jacoby Jones' 2013 Super Sunday kick return, Reno's Atlantis Casino Resort Spa opted to double down, giving their patrons the chance to score big cash prizes in 2014 with a little help from Odds On Promotions.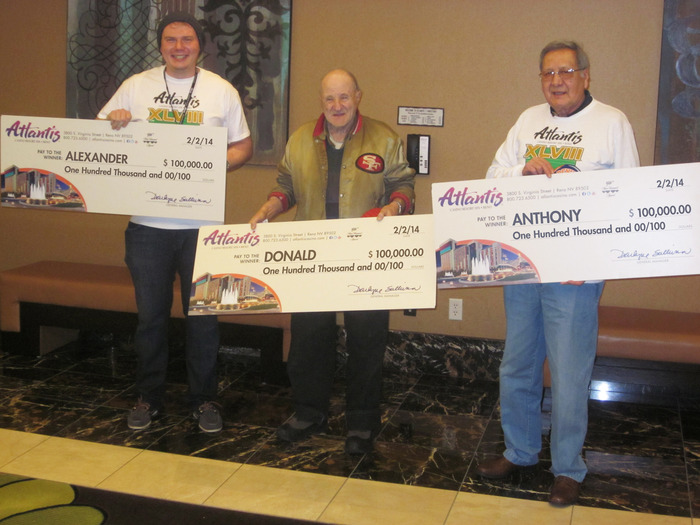 Guests who participated in the casino's Big Bowl Bash parties each got a chance to win the big bucks if the opening or second-half kickoff was returned for a touchdown. So you can imagine the response when Seattle wide receiver and kick returner Percy Harvin broke free from the Broncos' defense and ran back the opening kickoff of second half for a touch down.
"I did not think the excitement from last year could be matched," said Craig Pleva, director of casino marketing for Atlantis Casino Resort Spa. "This year was even better. Guests were jumping up and down, hugging each other, and cheering. There was a genuine disbelief that this could be done two years in a row. It was exciting in 2013 when three guests won $100,000 each. Now we have six $100,000 winners in the last 12 months. It is awesome."
Pleva noted, "Odds On Promotions was quick to respond and offered a great prize element to our event."The casino is giving their players another chance to win their share of  $300,000  this year as well!