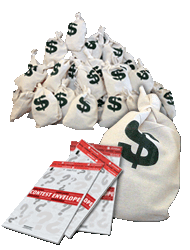 Are you looking for some great bank promotion ideas that will help you increase traffic at your location as well as offsite special events?  Here's a fun promotion a Missouri bank ran at a local festival: a Pick 'Til You Win-style Lucky Envelopes contest.
During the four-day-long festival, one lucky attendee each evening was selected to play Odds On's Lucky Envelopes game. Each of the four participants got the chance to pick from 40 envelopes on display, each of which held one of three different prize symbols.  Whichever symbol the contestant got "five" of first, was the prize that they would win!
In this case, the prizes consisted of $2,000 cash, $2,500 cash… and an insured grand prize of $15,000 cash, compliments of the bank and paid for by Odds On!   Although no one ended picking the five grand prize inserts right off the bat, all four contestants left with a tidy sum in their pockets, thanks to their friendly local bank!
Pick 'Til You Win is one of my favorite Lucky Envelope games, because every participant leaves a winner regardless of what envelopes they select.  And did you know that Odds On can also supply you with optional money bags to store your envelopes in, or even a stock or customized game board to increase the visibility and appeal of your promotion?  Or, if you'd rather, you can use your own props — whether they be cases, beer steins or otherwise!
Give Odds On Promotions a call today at 888-827-2249 for a FREE copy of our Top 5 Bank/Credit Union Promotions PDF which contains more bank promotion ideas… or simply email us to request it today!  After you're finished reading it, contact us for a free, no-obligation quote.