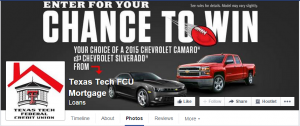 Are you looking to score big points with football fans? Do you sponsor a high school, college or pro football team? Make the most of your sponsorship dollars while giving customers and fans the chance to punt, kick, pass or email their way to incredible prizes with a little help from Odds On with a football contest!
For example, the Texas Tech Federal Credit Union recently gave 3 lucky football fans the chance to win their choice of a vehicles, each valued at $40,000, and paid for by Odds On Promotions, in a Progressive Pass, Punt and Kick football contest.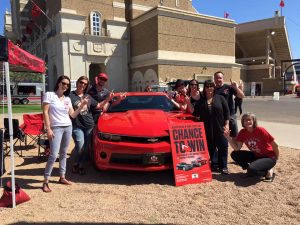 To get a chance to win their choice of new rides, fans first needed to "like" and register on the Credit Unions' Facebook page and on game day they randomly selected three contestants to participate in the on-field contest.
The three contestants began at the end zone and threw a pass towards the opposite end zone. The two contestants who passed the ball furthest then punted the football towards the goal posts. The fan that punted the furthest, then got a chance to kick a field goal and win a new set of wheels, paid for by Odds On.
Interested in adding a giant-prize football contest to your next event? Wanting to insure a contest for your own business? Whether you are a retail company looking to increase foot traffic to your location, or a radio station looking to team up with a remote sponsor, we have something for everyone! Be sure to check out our Football Playbook and then give Odds On Promotions a call today at 888-827-2249 for a free quote — or email us for more information. We're excited to hear from you and help accommodate your unique business needs utilizing prize indemnity insurance from Odds On.