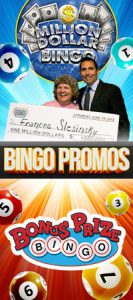 Looking to increase traffic and revenues in your bingo room? You've got to sell more paper with a bingo contest!
For just pennies per card, you can turn your next bingo contest or pattern game into a giant prize party – with Odds On's Bonus Prize Bingo.
Charge whatever you'd like for the Bonus Prize cards, or distribute them based on points earned, hand-paid jackpots, or whatever criteria works best for you. When a lucky player gets your selected pattern on a Bonus Prize card in a pre-determined number of calls, he or she will score your grand prize and Odds On Promotions will write the check – up to $100,000! Best of all, you'll pay only for the cards you sell!