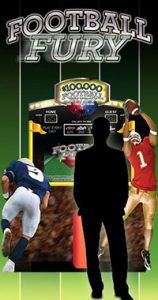 Looking for a fabulous casino football promotion idea for your property? Give your players chance to score prizes worthy of an NFL superstar with Odds On's easy-to-play Football Fury Video Scratch & Win game.
Here's how it works: Players simply select six helmets on the game's touchscreen grid. If a lucky player unveils all six prize-winning symbols, they'll take home your grand prize. Or, you'll reward them with a consolation prize based on how many winning symbols were revealed.
Even better, with this casino football promotion's guaranteed prize pool option, you can ensure that every player walks away a winner, while you stay on budget.
Football Fury is available on your choice platform from a convenient hand-held Tablet, countertop-friendly Lite Kiosk, slot-floor friendly 50″ Kiosk or the larger-than-life 80″ Super Kiosk.