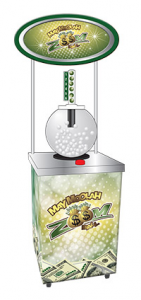 Looking for a May promotion idea for your casino property? Make a millionaire this May with a little help from Odds On Promotions with this fabulous casino promotion idea: May Moolah Zoom Ball!
Zoom Ball gets your player's lining up for the chance to win up to $1,000,000 in cash and prizes with just a quick press of a button! If a lucky player lands a winning combination of five or six balls inside the Zoom Zone, Odds On will write the winner a giant check!
Odds On's May-themed deluxe Zoom Ball machine comes complete with a customizable backlit sign, customizable 3-sided cabinet wrap, and a prize coupon printer that makes prize fulfillment a snap.
Check out our other stock Zoom Ball themes, then give us a call today at 888-827-2249 for a free, no-obligation quote on the above promotion — or better yet, on your own custom May promotion idea!  You can also email us with any questions.