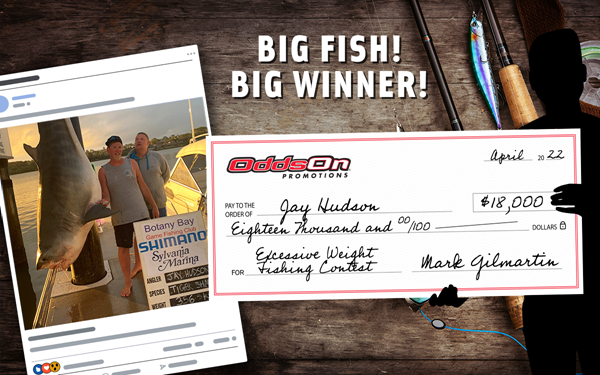 Royal Exchange, Australia – Congratulations to Aussie angler Jay Hudson who recently landed a $18,000 prize-winning Tiger Shark during the Botany Bay Game Fishing Club's Bill Heyward Memorial Fishing Tournament.
To win the grand prize, which was insured by Odds On Promotions, an angler needed to catch a Mako or Tiger Shark that weighed more than 200 kilograms (440 pounds).

Hudson reeled in a massive Tiger Shark that topped the scales at a whopping 356.5 kilograms (just shy of 786 pounds). Hudson landed the prize-winning shark just outside of Botany Bay on the aptly named vessel, Reaper, using a 15 kilogram test line.

No matter what sport your target audience enjoys, Odds On Promotions can help you craft an engaging promotion that will help you increase awareness, maximize your sponsorship, and drive increased participation.
To learn more about this fishing promotion visit our site or give us a call today at 888-827-2249.