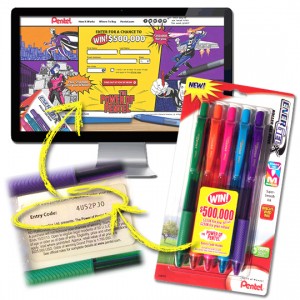 Big news here at Odds On Promotions!  Pentel reached out to me, inquiring about on-pack promotions.  Thankfully, I was able to help them insure the perfect on-pack promotion that would not only increase awareness of their EnerGel-X line of pens, but also increase sales at participating retail stores during the back-to-school season… all the while, giving one lucky individual the chance to win money for both themselves and their school!
Here's how the promotion works: Approximately 700,000 specially-marked packages of Pentel's EnerGel-X pens will be distributed to stores nationwide, each of which contain a unique prize code which is revealed once the package of EnerGel-X pens are opened.  The consumer will then go to Pentel's website to enter in the code in hopes of "unleashing the power of Pentel" during their super hero-themed promotion, which helps capitalize upon all of the super hero movies of the season.
The 'power' in question just so happens to be a $500,000 insured grand prize – $250,000 for you, $250,000 for your school!  Compliments of Pentel for purchasing their EnerGel-X pens… and paid for by Odds On Promotions, of course!
And it's not 'Game Over' if no one happens to have the winning prize code!  That's because Pentel will be giving away a secondary prize during the promotion: Power of Pentel Backpacks!  Additionally, they'll be hosting giveaways at their social properties throughout the duration of the contest for more opportunities to win prizes.
We're all very excited to find out if Pentel will end up having a $500,000 winner by the time the promotion ends this Fall.  It's been such a pleasure working with Pentel; I've been extremely impressed with the presentation of their on-pack promotion and I'm beyond thankful to have them as a client.  Be sure to watch their commercial at the bottom of this blog post!
If you're interested learning more about on-pack promotions, be sure to give Odds On Promotions a call today at 888-827-2249.  You can also email us for a free, no-obligation quote.  Be sure to check out our website for more retail promotion ideas… or better yet, let us know if you have one of your own!