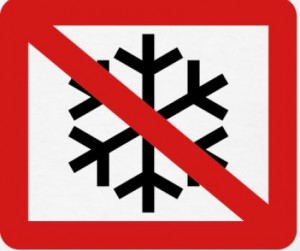 ATTENTION: Car Dealerships and Retailers! Looking to boost sales and increase foot traffic to your location?  Here's a promotion idea you're sure to love – and are more than welcome to steal…  a weather conditional rebate. But this one has a fabulous twist that will have customers singing, "Let it NOT snow" come this winter season!
A Northeast  auto dealership group which consists of 4 separate locations, will be running an interesting twist on the traditional weather conditional rebate promotion.  What's the twist?  Well, each location will be handing over a rebate to customers if it snows less than 18 inches this winter!
That's right – if it snows less than 18 inches, customers will see a portion of their money back on all purchases made during the sales promotion and Odds On will pay for it all!
As you may already know, most weather conditional rebates are insured based on based on there being  more than a certain amount of rainfall or snowfall… or if it's more than a certain temperature (e.g. 100 degrees) outside.  But it works both ways!
"This type of 'reverse' weather conditional rebate is definitely unique and we love seeing it insured", explains Zak Woodhead, Risk Manager with Odds On Promotions.  "Next time your thinking about running a conditional rebate promotion — and depending on where you live, of course — consider giving customers a rebate if it doesn't snow on Christmas Day, or if it's less than a certain temperature – 100 degrees, for example – outside on a specific day.  It really tends to enhance the promotional experience and make things even more exciting."
Have we piqued your interest?  Give Odds On a call today at 888-827-2249 or email us for a free, no-obligation quote.  Not only will we give you the pricing you want and need, but we'll also help custom-tailor a conditional rebate promotion to best suit your business and locale!