Looking for Midnight Madness promotions for your business? October 15th is almost here!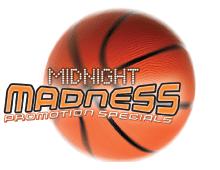 Get your fans into the game with a promotion designed to increase attendance and generate excitement at this year's opening practice. Give away CARS, CASH, or better yet a SCHOLARSHIP and start your season with a bang. Use one of these promotion specials or call our Sports Promotion Specialist, Linda Thomson, with one of your own. We guarantee you a victory!
Whether you're looking for a Series Shootout, Half Court Shot, Three Point Thrills or 2 of 3 from Half Court promotion, Odds On Promotions has it all!
For more information and pricing on any of the aforementioned promotions or your own custom-tailored promotion, give Linda Thomson, Odds On Promotions' Sports Promotion Specialist, a call at 800-771-0250!