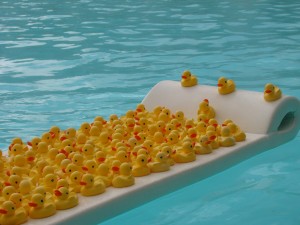 Are you a radio station looking to increase foot traffic at one of your remotes, or celebrate the grand opening of a business in your area?  We have just the promotion for you: a 3-digit number guess… featuring lucky ducks, which is exactly what this media company out of Montana will be insuring through Odds On Promotions!
In order to celebrate the grand opening of a local recreational facility, the radio station will be choosing one attendee at random to choose 1 rubber duck from a pool of 250 to see if it will land them a grand prize. Here's how it will work:
After choosing their duck, the participant will enter the 3-digit number on the bottom of it into Odds On's handheld verification unit.  If the number matches Odds On's preselected number, they're an instant $50,000 winner… and we'll be cutting the check, of course!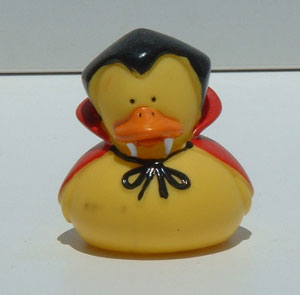 The great part about holding a number match featuring rubber ducks is the fact that there are so many different types available to best suit the theme and/or 'feel' of your promotion!  From vampire ducks (perfect for Halloween), Santa ducks (Christmas) and even lovey ducks (Valentine's Day), no matter what the occasion, there's sure to be a custom duck out there for you!
Interested in holding a 3-digit number match/Lucky Duck Pluck?  Call Odds On Promotions today at 888-827-2249 or email us for a free, no-obligation quote!