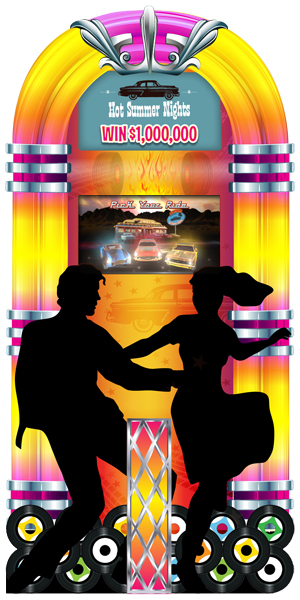 Looking for players club promotions for your casino property?  Better yet, looking for summer-themed players club promotions?  As part of a city-wide special event in Odds On's hometown of Reno, Nevada, Hot August Nights, a casino property in the area decided to reach out to us for ideas.  Lo and behold, we had the perfect stock Swipe, Play and Win game for them: Hot Summer Nights!
Here's how the promotion works: during the months of July through September, club members receive one free swipe to play and win daily.  Extra swipes can be earned by various methods (i.e., dining, hotel stays, points earned, select hands of blackjack, etc).
When the players play the game, they will select from one of thee classic cars to 'race.'  If their vehicle happens to be the first to cross the finish line, they'll instantly win $100,000… paid for by Odds On Promotions!
Once the players finish playing the game, a three-part coupon will print, which contains the following:
– An instant-win prize. The ticket will have the prize the player received (either the grand prize, should they be the insured grand prize winner, or auxiliary prizes which consist of free play, food credits, t-shirts, etc.)
– A collection game piece.  Players must collect collection pieces 1-4 in order to be eligible for a $500 slot play prize.
– A drawing ticket which can be put in a drawing drum where players will have a chance to score various amounts of free slot play. The time and location of each drawing is notated on the game piece.
Odds On's Swipe, Play & Win promotion are great players club promotions, due to the fact that players have so many different opportunities to win prizes and the prizes are awarded based on player value.   And did you know that on top of Odds On's stock Swipe, Play & Win games, that we also have the ability to create a customized game specifically for your property and/or theme? This makes them a great attraction device when you have a large conference or special event taking place in your marketing.
So tell us: do you have a special event going on in your area?  Let Odds On Promotions help build a casino promotion around your next big event to help increase coin-in and foot traffic while also capturing valuable player marketing information!
Give us a call today at 888-827-2249 or email us for more information on players club promotions… and be sure to check out the live demo of Hot Summer Nights below!