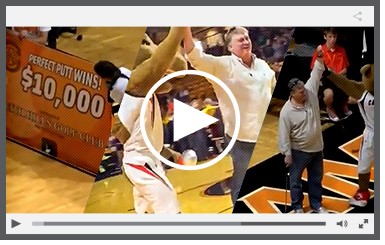 Buies Creek, N.C. — We have a new putting contest winner! At Campbell University, it's not just the Men's Golf Team that knows how to sink amazing putts.
This February, Brian Porter of Raleigh nailed an impressive 94-foot putt, winning himself $10,000, courtesy of Campbell University, and paid for by Odds On Promotions.
Porter, who was selected at random during a media time-out break, stated it had been months since he had played golf, and joked that he was, not only "Excited, but, really glad I didn't have a heart attack", after realizing that he had sunk the prize winning on-court putt.
Are you interested in giving your customers or fans the heart-pounding thrill of a lifetime? A big prize putt, whether at a golf tournament, store, event, or at your next basketball game, is always a big crowd pleaser.
For more information on running your own big-prize putting contest, email or give us a call today at 888-827-2249.