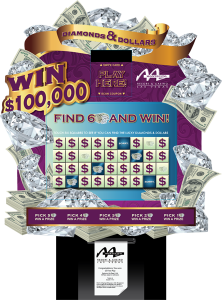 A jewelry store in the Midwest recently reached out to me looking for retail promotions.  The retailer was looking for a promotion that they could use as part of a "Six Weeks of Savings" celebration tied to their 60th anniversary.
After we reviewed a few different concepts, the client chose Odds On's countertop "Diamonds & Dollars" Video Scratch and Win game.
Preferred customers of the jewelry store will be invited to an exclusive VIP event at their store location on a specified promotion date.  Each customer will then choose six spots on the Video Scratch & Win game's touchscreen.  If all 6 spots on the game's touchscreen reveal a grand prize symbol (which, in this case, happens to be a diamond coupled with a bundle of bills), they'll be an instant $60,000 winner, compliments of Odds On!
Luckily, it's not "Game Over" for those customers who don't manage to select all 6 grand prize winning spots!
The jewelry store will be awarding a number of smaller auxiliary prizes for those who find fewer grand prize symbols.  If a player select 1 or 2 grand prize symbols, they'll get a free prizes provided by the store. For 3/6 grand prize symbols, they wont have to pay sales tax on items purchased that day.   Collecting 4/6 symbols will land customers 15% off of their purchases, while 5/6 symbols will result in a 20% discount on all purchases made the day of the VIP event!
No one leaving empty-handed is definitely the sign of a great promotion, if you ask me!
You can see exactly how the game is played at the bottom of this blog post!
And if you're interested in insuring one of our retail promotions like this, you'll want to check out our Video Scratch and Win games. Or visit our website for even more ideas!  Interested in a custom game or promotion?  No problem!  Just give Odds On a call today at 888-827-2249 for a free, no-obligation quote.  You can also email us for more retail promotion ideas as well.