Eustis, Maine – Eric Guy recently won a $5,000 performance bonus prize courtesy of the Arnold Trail Snowmobile Club and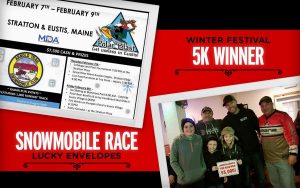 paid for by Odds On.
Every year during their Polar Blast, a winter snowmobile racing festival that takes place in the western mountains of Maine, The Arnold Trail Snow Mobile Club gives the first place finisher of a "radar race" the chance to pick a single envelope from a group of 25 to win $5,000 paid for by Odds On Promotions or take home a $500 consolation prize.
After winning the Polar Blast two years in a row and twice taking home the $500 consolation prize, Guy finally had the luck of the draw – picking the $5,000 grand prize envelope.
But what makes Guy a winner in our book is that he donated $1K back to the Arnold Trail Snowmobile Club, making his big win, a big win for the club as well.
Would you like to reward outstanding performance by giving a first-place finisher the chance to win an even bigger bonus? A Lucky Envelopes contest is a fun and easy way to offer a bigger reward in any setting. To learn more email or give us a call today at 888-827-2249.