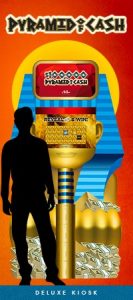 Give your players a chance to win so much gold that even King Tut would be jealous with Odds On's newest summer casino promotion idea: Pyramid of Cash.
Available on Odds On's Deluxe, Super or Countertop kiosks, qualifying players just swipe their club card and select six pyramids on the touchscreen to reveal stacks of cash.
If your player has the winning touch, they'll instantly win your grand prize, or they'll be rewarded with a secondary prize based on your customized prize matrix and how many stacks of cash your player unveiled.
Pyramid of Cash Video Scratch and Win Kiosk Game