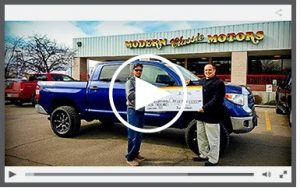 Grand Junction, Colo. — Congratulations to Johnathan Oakley who won $10,000 on Super Sunday, thanks to an auto dealer promotion from Modern Classic Motors, and paid for by Odds On Promotions. Oakley won the giant prize after the Denver Broncos won this year's Super Bowl.
Late last summer, before the start of the NFL season, Modern Classic Motors contacted Odds On to set up a season-long football promotion with a goal of giving back to the community, raising awareness and driving traffic.
The premise was simple: if the Denver Broncos won the Super Bowl, a lucky registered contestant would win $10,000, paid for by Odds On.
To get a chance to win, all someone needed to do was visit Modern Classic Motors, complete a registration form during the NFL season, and start rooting for Denver to win the championship game.
On February 6, the day before the big game, Modern Classic Motors selected a lucky winner, whose name was announced after Denver won. Turns out Oakley was the big winner who received an equally big check – all just for stopping by the dealership and filling out a registration form. And just check out the great PR the dealership received just a few days prior to the big game.
Looking for an easy way to boost your foot-traffic? You can easily run this auto dealer promotion tied to your team winning any championship … whether that's the World Series, the NCAA Men's Basketball Finals, the NBA Finals, or an NCAA or NFL Bowl game.
Ready to run your own season-long sports giveaway? Email or give us a today at 888-827-2249.