Score Match Bonus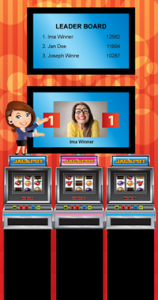 Mega-Size Your Slot Tournaments

Make your next player tournament more rewarding with casino promotions, such as Odds On's Score Match Bonus! You can advertise your tournament as a $1,000,000 tournament, which would be paid for by Odds On.
Here's how it works: at the close of your tournament (or each round), contestants are randomly selected to enter the last few digits of their score into our handheld Lucky Score Match verification unit! If your player has a winning combination, they win the grand prize, and Odds On foots the bill. This promotion is an affordable way to boost the impact of your Daily Tournaments, or super-size the prizes of your larger invitation-only events.
---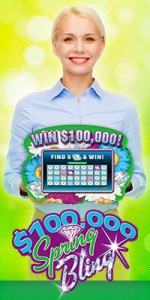 Spring Bling
Hot Seat Floor Promotion
Turn your casino floor into a big bling-awarding party zone with Odds On's Spring Bling Video Scratch & Win Game. Players simply select six spots on the touchscreen for a chance to win a variety of insured and self-sponsored prizes based on how many winning symbols they can find. For example, find two or three, win earrings or a necklace; find four, score free play; unveil five, win $100; find all six and win $100K, paid for by Odds On! Games are available on a variant of kiosk sizes or a convenient handheld tablet. Ideal for running hot seat casino promotions where you can reward players right at their gaming positions.
---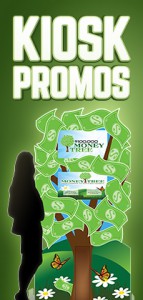 Money Tree
Kiosk Promotion for Everyone
Give your players the chance to win amazing cash and prizes this Spring with Odds On's Money Tree Swipe, Play & Win game. Available for play on Odds On's Deluxe Kiosks which feature a 24/7 advertising slide show, qualifying players just swipe their club card and select a lucky leaf on the game's touchscreen. If your player has the winning touch, they'll instantly win your grand prize, or they'll be rewarded with a secondary prize based upon the card holder's player rating and your customized prize matrix. This game features an optional collect-to-win game component, customizable drawing ticket, and can be insured for up to $1,000,000.

Experience the Money Tree Kiosk Game
---
Have any questions about the above promotions, or looking for other casino promotion ideas for your property? Give Odds On Promotions a call today at 888-827-2249, or email us today for more information!