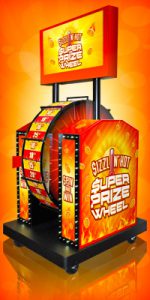 Casino Summer Promotion Ideas:
$100,000 Sizzling Hot Prize Wheel
Kick off your summer in sizzlin' hot style with one of our casino summer promotion ideas, such as our Summer-themed Sizzlin' Hot Super Prize Wheel! Qualify players in any manner you choose (joining your club, giving you their email address, winning a hand-paid jackpot, earning X points daily, scoring a suited Blackjack with a minimum bet, etc.) and invite them to return for your weekly drawings for a chance to spin & win up to $100,000—paid for by Odds On!
With every spin of the wheel, the mercury rises—bringing your player closer to their giant prize! If the temperature reaches the top, the lucky player will win your insured grand prize and Odds On will write the check! If not, they win a self-sponsored cash prize that is customized based upon your budget.
This "Sizzlin' Hot Wheel" prize wheel features offers back-lit prize panels, a 40″ LCD display, LED lights, and a tidy 3′ W x 4′ D x 9′ H footprint.
---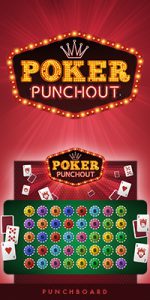 $100,000 Poker Punchout
Lucky Envelopes Promotion
Could your video poker or poker room revenues use a little boost? Then you'll love our latest big prize Lucky Envelopes game, $100,000 Poker Punchout!
Here's how it works. You'll choose an eye-popping, attention-grabbing grand prize. Odds On will ship you a customized Poker Punchout Game Board and a set of Lucky Envelopes for every contestant, each filled with a dollar amount. Your player then punches three spots on the gameboard, removing the envelope. If the total amount of the three envelopes equals $100, your player will score $100,000 and Odds on will write the check.
---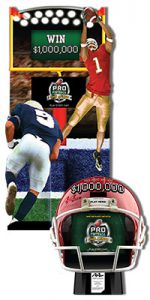 Pro Football Challenge
Get a Jump on Fall
It's Draft Week, which means the NFL season can't be far behind!
If you'd like to to drive play and visits every day for seventeen weeks this fall, then it's time you draft the ultimate "Pick the Pros" style promotion, Pro Football Challenge! Players get one free chance per day to pick the winners of the Sunday and Monday games and can earn bonus picks for earning points. Insurable up to $1,000,000 this game is available on a variety of kiosk platforms to suit any floor plan or budget. Looking to put your own spin on the ball? Ask about our custom College Football Challenge pick 'em game – another one of our favorite casino summer promotion ideas!