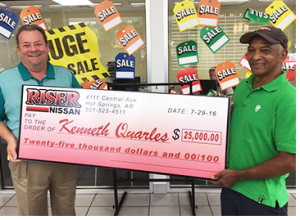 Direct Mail Winner Scores 2016 Nissan Altima
Odds On Promotions Writes the Check for $25,000
Hot Springs, Ark. – Congratulations to direct mail winner Kenneth Quarles of Arkadelphia who scored a brand new 2016 Nissan Altima, valued at $25,000, paid for by Odds On Promotions, in a direct mail promotion developed by a marketing company in Georgia.
Quarles won the brand-new ride after he took his cousin's advice and drove one hour to the dealership to see if he was the grand prize winner. While Quarles wanted to look at the car, winning number or not, when he got to the dealership, he was shocked to find out the number on his mailer matched a set of grand prize winning numbers posted at the dealership.
But Quarles wasn't the only big winner of the "Splash Into Savings" Sales Event. The dealership was delighted with the turnout, reporting between 600-800 folks visited, which was well above their expected turnout of 500.
Want to make your next sales promotion even more appealing? Looking to ensure that your next direct mail promotion piece is a big winner? Email or give Odds On Promotions a call today at 888-827-2249 to learn more.