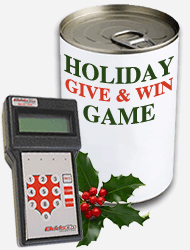 Support a local charity and drive traffic to your business all while giving your players the chance to win big this holiday season with Odds On Promotions' Holiday Give & Win Game.
With every donation of food, coats, blankets (whatever your participating charities need) made at your location, give your donors a chance to guess the "Secret Santa Code" and win $50K for themselves and $50K for their favorite charity, paid for by Odds On! Award consolation prizes for getting close to a winning combination of digits.
For more information, or for a free, no-obligation quote on this promotion, give Odds On a call at 888-827-2249 or email us!  You can also take a look at some the other holiday promotions we have to offer as well!  Happy Holidays!