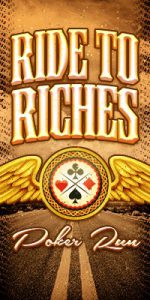 Do you sponsor or organize a fundraising poker run? Want to increase awareness and raise more money for your cause this summer?
Let Odds On Promotions give participants in your run the ultimate incentive to participate — the chance to win brand new motorcycles, cars, even $50,000 in cash — without the risk of payout, with a Lucky Hand Poker Run.
Ready to make this year's run your biggest fundraiser to date? Email or give us a call today at 888-827-2249.
We're looking forward to working with you this year.
P.S. Looking for more ways to raise money for your cause? Check our favorite Poker Promotions as well as our Top Ten Fundraisers. Then just give us a call.
Fundraising Poker Run: How it Works
Give your Poker Run participants the chance to win brand new motorcycles, ATVs, boats, cars, even $50,000 in cash, paid for by Odds On Promotions, with Lucky Hand Poker Run! Run participants visit your predetermined stops, selecting a playing card at each location. If a lucky participant's hand matches the preselected winning hand, Odds On will pay for your grand prize! Bonus: Lucky Hand Poker Run automatically ranks every hand, making it easy to distribute self-sponsored prizes.