Storrs, Conn. – Imagine the pressure of taking a half-court shot at half-time during a big UConn Women's basketball game. Now imagine making that shot in front of not only Rebecca Lobo, but Kobe Bryant too. Well, that's exactly what half court shot promotion winner Asher Iglesia, a full-time student at UConn, did last March. Check out Iglesia's prize-winning shot!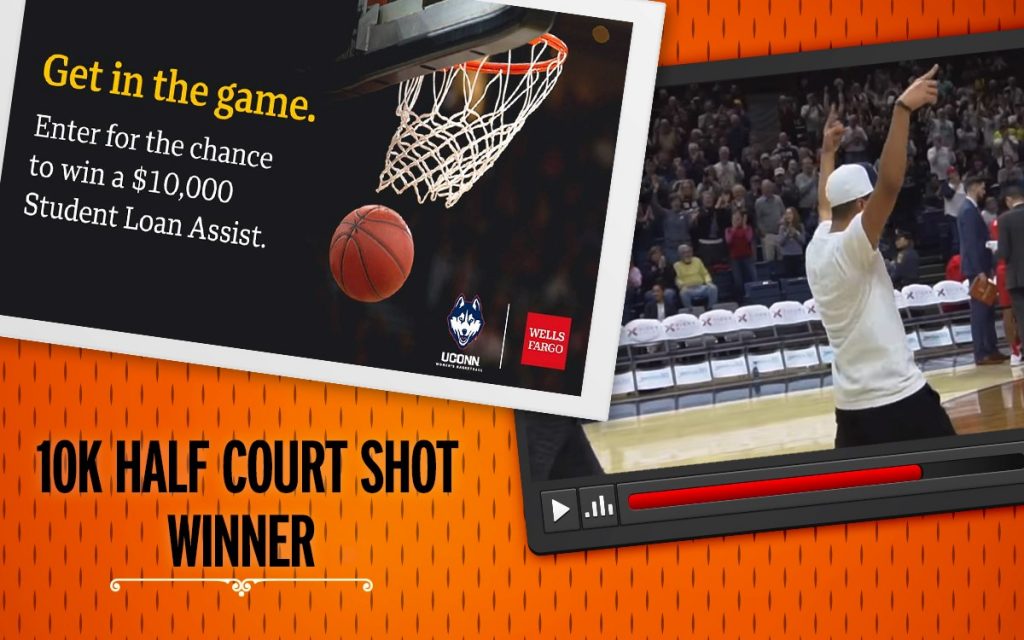 Iglesia, who was a track and field athlete in high school, won the $10,000 courtesy of Wells Fargo, and paid for by Odds On Promotions, in a half-court shot contest that took place during the women's basketball game at Gampel Pavilion between the UConn Huskies and Houston Cougars.  And, this wasn't just "any" basketball game – it was the game at which UConn retired the jersey of Rebecca Lobo.

Iglesia learned about the promotion, which was designed as a student sports loyalty reward program, via email. The more games a student attended, the more chances they got to be selected for a chance to make the prize-winning shot.  After nailing the shot from half-court, Iglesia put his track and field skills to the test, running around the court in celebration.

Give us a call today at 888-827-2249 or send us an email to learn more about the many ways Odds On Promotions can help you get into the game of rewarding customer loyalty and showcasing your brand in any setting, including (but not limited to) a half court shot promotion.