South Orange, NJ – Congratulations to half-court shot winner Zachery DeMetro who recently won $10,000 courtesy of Seton Hall University, and paid for by Odds On Promotions, in a half-time basketball contest. Check out DeMetro's prize-winning shot!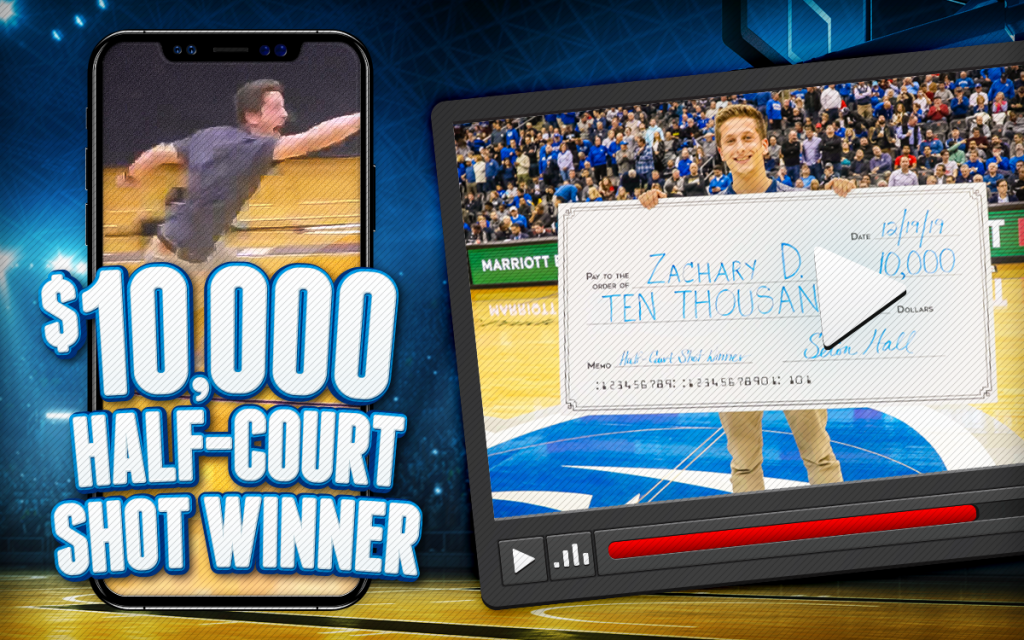 DeMetro won the big bucks after he was randomly selected via raffle ticket to participate in the half-court shot contest, which took place at half-time during the women's basketball game against Princeton. After making the prize-winning shot, the fans in Walsh Gymnasium erupted while DeMetro took a few laps around the court, getting hugs and high-fives from staff, students, and the school's mascot.

According to Matthew Westphal, a marketing graduate student who helped to organize and run the contest, "It was very exciting to have a winner. We hold these contests primarily for our students and they add to the overall game experience. We've worked with Linda at Odds On for a variety of programs – including our Morning Madness events. The claims process was straight-forward, and everything went very smoothly."

Interested in finding out how Odds On Promotions can help you maximize sports sponsorship opportunities, engage your audience, drive traffic and close more sales in any venue? Want to market into the excitement surrounding the NCAA Men's Basketball Tournament? Thinking about sponsoring or running big prize basketball contest at your next game? Want to have a half-court shot winner of your own? Email or give us a call today at 888-827-2249 or visit our website.

It's not too late for a big-prize basketball promotion! Give your customers the chance to win up to $1,000,000 with one of Odds On's Bracket Challenge Contests. Whether you want to give everyone the chance to correctly predict all the winners of the first two rounds (48 correct), or give them the chance to win $1,000,000 for correctly predicting 63 out of 63 games, Odds On has a bracket promotion for you.
Contact us today for more info and pricing.