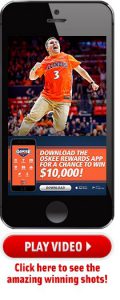 Students Swish for $20K at State Farm Center
Odds On Promotions Writes the Checks
Champaign, Ill. – Congratulations to half court shot winners Ryan Dowling and Drake Kurtenbach who each scored $10,000, paid for by Odds On, in a half-court basketball contest that took place in front of a sold-out crowd at State Farm Center.
The promotion, which was held on Senior Night during a game between Michigan State and the Fighting Illini, gave 10 randomly selected students the chance to each win $10,000 – for a total of $100,000 in potential prizes – if they could nail a shot from half-court.
To get the chance to win big, students needed to download the school's Oskee Rewards App (the university's new student loyalty program), allow for notifications, and then "check-in" at State Farm Center via the app. Students were then randomly selected and notified via the app and given a deadline to meet at the marketing table to finalize their participation in the contest.
To keep the excitement going all night long, the Marketing and Fan Development team held the contest over the course of the evening. The first round of half-court shots, which were sponsored by Game Day Spirit, took place during pre-game with the second round of shots, sponsored by FlyCU, taking place during the first half. The final round, sponsored by Homefield Energy Services, took place during the second half.
The night's first winner, Ryan Dowling, barely got to the marketing table in time, but went on to nail his half-court shot just before the game started, while Drake Kurtenbach, a senior, swished one in during the first half, netting himself $10K and a giant roar from the crowd.
Watch their amazing half court shots for yourself.
Need to drive more app downloads and keep your fans engaged? Looking to super-size your basketball score pool? Want to plan a Final Finishers promotion tied to the last four games of the NCAA basketball tournament or run a conditional rebate sale based on the performance of your favorite NBA team? Odds On has a promotion for you! Email or give Odds On Promotions a call today at 888-827-2249 to learn more!