Congratulations to Million Dollar Shootout winner Ted A., who won a $1,000,000 prize courtesy of The Founders Club, LLC, and paid for by Odds On Promotions' sister company, Hole In One International.

Ted won the million-dollar prize after he and three other golfers all qualified to participate in a post-outing shootout event. But, what makes this story even more incredible, is that 3 of the 4 participants qualified for the shootout by making a hole in one, when getting closest to the pin would have cut it. Watch the congratulatory winner video.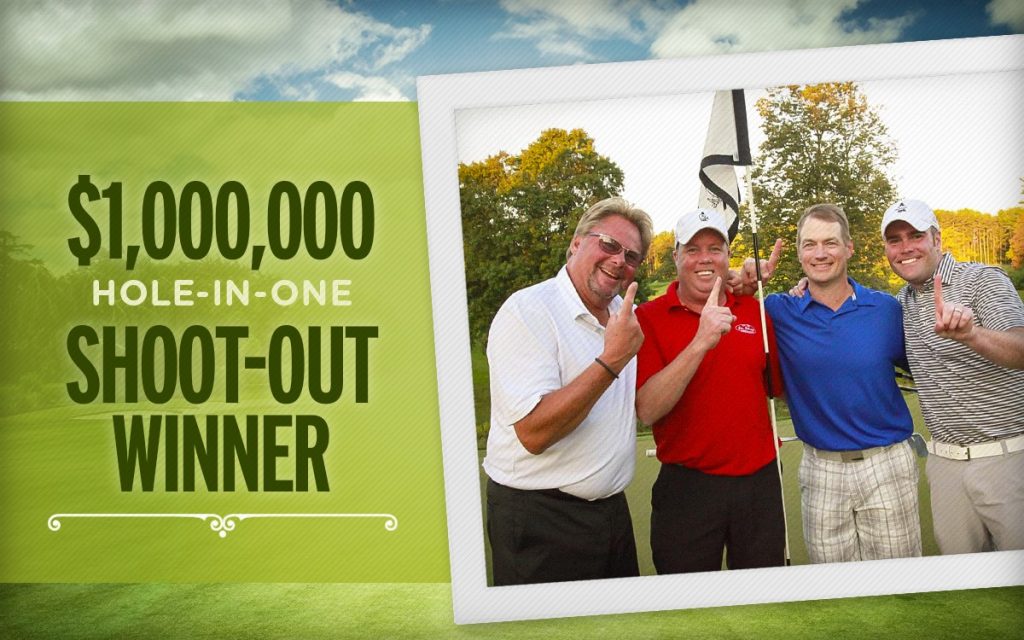 According to Pine Hills Country Club policy, when a member in the Hole In One Club makes an ace, the country club hosts an outing and a dinner to recognize the acemaker's achievement.
This past September, during such a recognition outing, Reed Schmidt of The Founders Club, LLC sponsored a million-dollar shootout contest.
Outing participants could qualify for the million dollar shootout by getting closest to the pin on a designated par 3. As it turns out, a truly unbelievable total of three players qualified by making a hole in one, while Tom qualified with closest to the pin.
But, the story doesn't end there… when it came time for the big bucks, Ted who has a 7.1 handicap, hit another hole in one during the actual shootout event… leading to the 4th ace of the day – and better still – scoring the million dollar prize.
Want to reward a great shot at your tournament? Ready to have your own winning story at your golf event this year?
Visit Hole In One International's website and then give them a call at 800-827-2249 to learn more about how easy and affordable it is to add the thrills of a prize, or possibly a million dollar shootout winner of your own, to your next golf event!