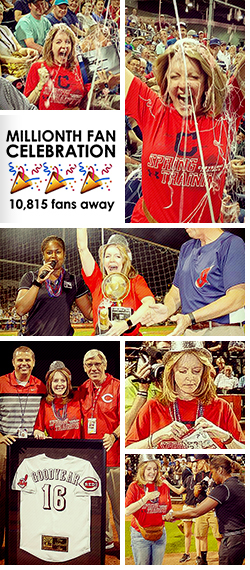 Millionth Fan Promotion
Goodyear Ballpark Celebrates An Attendance Milestone
Want to make the most of a major attendance milestone? This season, recognize your "X" millionth fan's arrival with a big prize promotion from Odds On! Check out how Bruce Kessman and the team at Goodyear Ballpark gave a Lucky Fan the chance to win a million bucks…
"The Millionth Fan promotion was absolutely amazing! The promotion started in the 1st inning with narrowing down to which side of the ballpark the Millionth Fan was on. The build-up continued in the 3rd inning when we narrowed it down to one section before finally revealing the Millionth Fan in the 4th inning. Section 117, Row S, Seat #2 belonged to Jean Wilson and was Goodyear Ballpark's Millionth Fan. During the half inning reveal, Taneka was live on the mic in the section accompanied by ballpark staff and interns who showered the area with confetti, silly string, beads, and party hats.
During the middle of the 5th inning, Jean was presented with the "Golden Fan" trophy by Goodyear's City Manager, Mr. Dalke.
Post-game, the Millionth Fan celebration continued as Jean was presented with more gifts and prizes on the field which included a commemorative Goodyear Ballpark jersey which was presented by Ryan Lantz and Mike Saverino.
Jean also had the chance to win one million dollars, ten thousand dollars, or a Vegas Prize Pack! 35 envelopes were scattered on a table at home plate and Jean had to select one at a time until she revealed 5 of one prize. She didn't win the million dollars but walked away with the Vegas Prize Pack. She walked away saying, "This was the best day of my life!"
And if giving a lucky fan a one-in-a-million experience wasn't enough, Goodyear Ballpark set a new single-game record with a crowd of 11,616!
Want to give your fans the chance to win a million this season – or have "the best day of their life"? Email or give me a call today to learn more about how you can add the thrills of a giant prize promotion to your lineup this year.