Fall Into a Great Promotion
And Let Odds On Write the Check
Looking to increase game day excitement, increase fan engagement, and generate bigger publicity while giving your sponsors more to cheer about? Give your fans the opportunity to kick, toss, or "like" their way to incredible prizes, paid for by Odds On Promotions, with these sports promotion ideas! Ready to get in the game? Give Sports Promotion Specialist, Linda Thomson, a call today at 800-771-0250, and she'll be happy to develop a collection of custom contests for you and your sponsors, as well as supply you with more sports promotion ideas.
---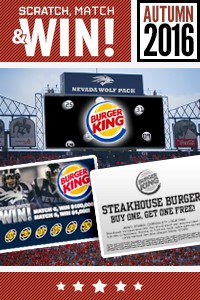 Scratch, Match,  & Win Video Reveal
One of our personal favorite sports promotion ideas! Put the chance to win in every fan's hand, while giving your sponsor incredible exposure before, during, and after the game with Odds On's Scratch, Match and Win video board promotion. Odds On will customize a scratch card to feature your prize and your sponsor's logos along with a custom coupon offer. Distribute the cards prior to the game, instructing fans to "scratch" off their cards and watch the video board at halftime. If the numbers on the fan's card match the ones revealed on a customized video playback, a lucky spectator will win the big bucks, and Odds On will be there to pay for the prize.
Scratch, Match and Win Video Promotion

---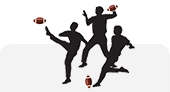 Football: Pass, Punt & Kick
Give three fans the chance to go for the big bucks, or take home consolation prizes of increasing value with Odds On's Progressive Pass, Punt and Kick. Three contestants line up behind the end zone, throwing their longest pass. The two who go the furthest move on to the punt and whoever punts the furthest gets a chance to kick it through the uprights and take home all the dough.
Pass, Punt and Kick Football Contest
---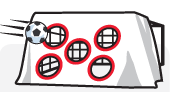 Soccer: Banner Bucks
Here's a contest that provides great visibility for your sponsor during the half. Hang a custom banner over the front of the goal with five target holes, each featuring a different prize. If a lucky Sharp Shooter sends the ball soaring through a hole, they'll score a big prize, courtesy of Odds On Promotions.
---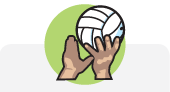 Volleyball: Perfect Serve
Serve up great visibility for your sponsors and giant prizes for your fans with a Perfect Serve promotion. If a lucky fan can ace a shot through a customized target template featuring your school or sponsor's logo, they'll score your grand prize and Odds On Promotions will write the check!