Minot, N.D. – Twelve-year-old J.J. Franks netted national notoriety when video of his amazing $10,000 4-shot basketball feat went viral on social media in February 2023.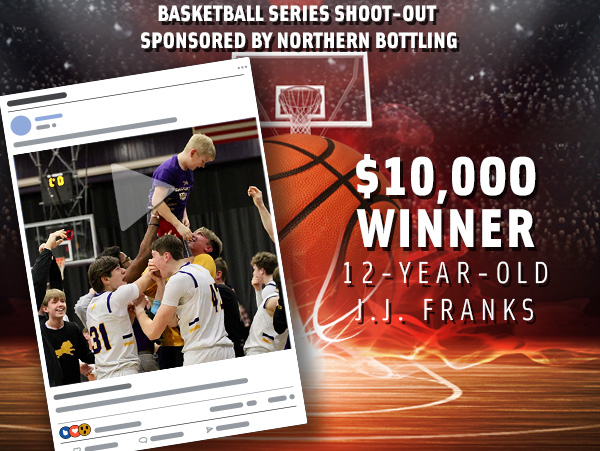 Franks won the big bucks, courtesy of Northern Bottling and paid for by Odds On Promotions, after he successfully made a layup, a free throw, a 3-pointer and a half-court shot in 25 seconds in the Northern Bottling – Gatorade $10,000 Halftime Shootout. While Franks will be putting the majority of his winnings aside for college, he will be keeping a little to spend on himself as well as donating a portion back to his school.
Watch his amazing shot!

Coverage for this extremely successful basketball series shoot-out promotion, which took place at Bishop Ryan Catholic School, was organized by Josh Ressler with Farmers Union Insurance.

Looking to net more customers, traffic, and sales this March and April? Visit our website to check out our most popular March Basketball Promotion Ideas. Then give us call today at 888-827-2249 and let us help you craft an attention-grabbing promotion that celebrates the mayhem and magic of the Mens College Basketball Tournament.