Newport Beach, Calif. – Mountain Mike's Pizza recently gave football and pizza fans the chance to score $49,000, paid for by Odds On Promotions, in an online to on-field Kick for Cash football skills promotion.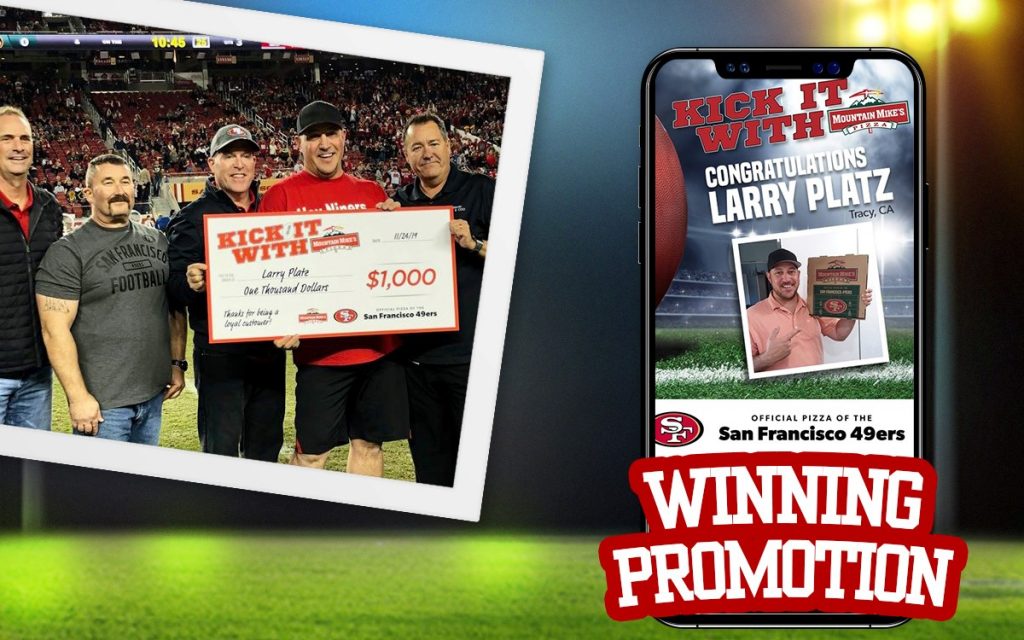 To activate their sponsorship as the Official Pizza of the San Francisco 49ers, as well as drive online and in-store traffic, Mountain Mike's Pizza gave their customers a chance to win $49,000, paid for by Odds On Promotions, in a field goal kick contest at Levi's Stadium at halftime during a game against the Green Packers on November 24.
To get a shot at kicking for cash in front a stadium of 70K football fans and winning a VIP game day experience, fans visited the company's website from September 17 through October 24 and on October 24, a lucky finalist was randomly chosen.|
According to Brian Bartolo, Vice President of db&m Media, the media agency for Mountain Mike's that helped craft the sponsorship activation program, "Even though the Kick-It with Mountain Mike's finalist didn't quite nail the 40-yard grand prize field goal kick, Mountain Mike's didn't let him go home empty handed. They awarded him with a $1,000 consolation prize on the field!"
"In our second year as the official pizza partner of the San Francisco 49ers, we wanted to get fans involved in something fun and potentially life-changing with one lucky individual scoring the chance to win $49,000," says Jim Metevier, President and COO of Mountain Mike's Pizza, LLC. "Guests have been coming to Mountain Mike's for over 40 years with friends and family to cheer on their favorite sports teams, and we're thrilled to provide a once-in-a-lifetime opportunity that even the most diehard football fans can get excited about."
In addition to the "Kick It with Mountain Mike's" sweepstakes, the brand launched a deal at the start of the season where pizza fans score 49 percent off any large one-topping pizza whenever the 49ers score. This offer is going on all season long at participating Mountain Mike's locations and applies to both home and away games.

The promotion generated 10K sweepstakes website visits and over 3200 entries.
Want to learn more about using giant-prize contests to activate sponsorships and put your brand at center field, center court or center ice? Looking for more way to market into the excitement surrounding any sporting event? Email or give Odds On a call today at 888-827-2249.