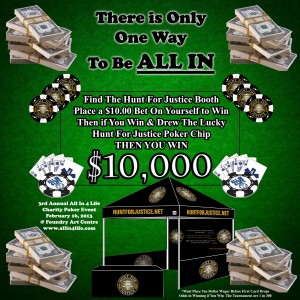 Believe it or not, poker contests don't always need to feature playing cards.  Check out how this non-profit organization in the Midwest is upping the ante with a lucky number promotion during their fundraising poker tournament!
Each poker tournament participant who pays an additional $10 will get to select a sequentially-numbered poker chip from a pile of 300 chips for a shot at $10K!
At the end of the tournament, the winner, if they had placed the additional $10 "bet" will give their lucky numbered chip to the promotion official who will then enter the number on the poker chip into Odds On's mobile number verification system* to see if it's a match.   If the contestant's chip number matches Odds On's preselected number, they'll be an instant $10,000 winner… and Odds On Promotions will cut the check for the prize!
Ready to "ante up" and insure one of our poker contests at your next poker tournament, fundraiser or other big event?  Give Odds On Promotions a call for a free, no-obligation quote at 888-827-2249 or feel free to email us any time with any questions you may have.  We'll be sure to help you custom-tailor a promotion that will not only generate tons of excitement among your attendees, but assist you in your fundraising endeavors as well, if applicable!
*While this organization opted for the flexibility and portability of Odds On's mobile number verification system, Odds On also offers a handheld number verification unit as well.