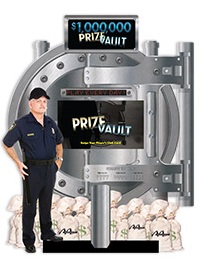 Break the Bank, Win the Bucks
Prize Vault Swipe Play & Win Game
Crack the code on driving incremental gaming revenue with Odds On's newest Swipe Play & Win game, The Prize Vault! Available on your choice of Odds On's Super, Deluxe or Countertop kiosks, qualifying players swipe their card and select a combination on the three dials on the touchscreen. If your player has the winning combination, they'll instantly win your grand prize, or they'll be rewarded with a secondary prize based upon their player rating. Game features optional drawing ticket, three collect-to win-game pieces, and can be insured for up to $1,000,000.
Click here to request a free, no-obligation quote!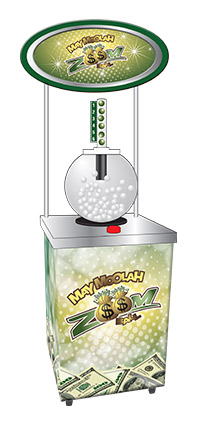 Big Moolah May!
Zoom Ball Promotion
Make a millionaire this May with a little help from Odds On Promotions!  Zoom Ball gets your player's lining up for the chance to win up to $1,000,000 in cash and prizes with just a quick press of a button!  If a lucky player gets five or six winning balls inside the Zoom Zone, Odds On will write the check for the prize!  Odds On's May Moolah Deluxe Zoom Ball machine comes complete with a customizable backlit sign, customizable 3-sided cabinet wrap, and a prize coupon printer that makes prize fulfillment a snap.
Click here to receive a free, no-obligation quote!