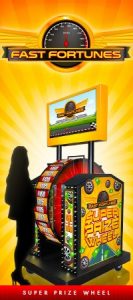 Racino Promotion: The Fast Track to Fortune
Add 'Em Up for $500K
Looking for a the perfect racino promotion? Reward your players with the chance to win big with Odds On's Fast Fortune 500 Super Prize Wheel.
Qualify players any way you choose (hand-paid jackpots, earning X points, or suited Blackjack with a minimum bet, etc.) and invite them back for a chance to spin & win up to $500,000, paid for by Odds On!
With every spin of the wheel, your player will get closer to crossing the finish line. If they can collect $500 in three spins, he or she will score 500K, and Odds On will write the check. Or, your contestant will take home the final amount they spun.
Along with an attention-grabbing 40-inch LCD scoreboard display, the Super Prize Wheel features customizable back-lit prize panels, and a tidy 3′ W x 4′ D x 9′ H footprint.
Call Odds On Promotions at 888-827-2249 or email us for more racino promotion ideas, or for a free, no-obligation quote.