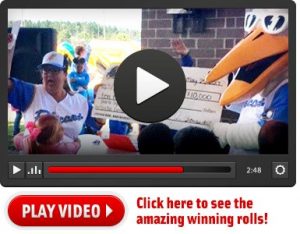 Woman Rolls Her Way to $10K at Baseball Game
Odds On Promotions Picks up the Tab
Myrtle Beach, S.C. – Congratulations to dice roll winner Teresa Glisson who recently won $10,000, courtesy of Sparks Toyota & HTC, and paid for by Odds On Promotions. Glisson scored the big cash prize as part of the Myrtle Beach Pelicans post-game $50,000 Dice Roll Extravaganza.
The crowd-pleasing baseball contest gave a lucky fan the chance to roll five 16″ dice, each featuring a Pelican logo. While the team provided three smaller prizes, Odds On provided coverage for a $10K prize for getting 4 logos and a $50K grand prize for getting all five.
Watch Glisson score the big bucks with her pre-toss "dice-whispering" technique.
Are you looking to give your fans the chance to score big this summer and have your own dice roll winner? Need a creative traffic driver to boost sales this summer? Imagine how much more powerful your advertising will be when you give your customers the chance to win up to $1,000,000, paid for by Odds On Promotions, simply for rollin' dem bones!
To learn more about Odds On's giant-prize dice rolls and other crowd-pleasing promotions, give us a call today at 888-827-2249 or visit our website at www.OddsOnPromotions.com.