Quincy, Ill. – Congratulations to Tax Day promotion winner Karen Tripp who won $25,000, courtesy of Kunes Country Auto of Quincy, and paid for by Odds On Promotions.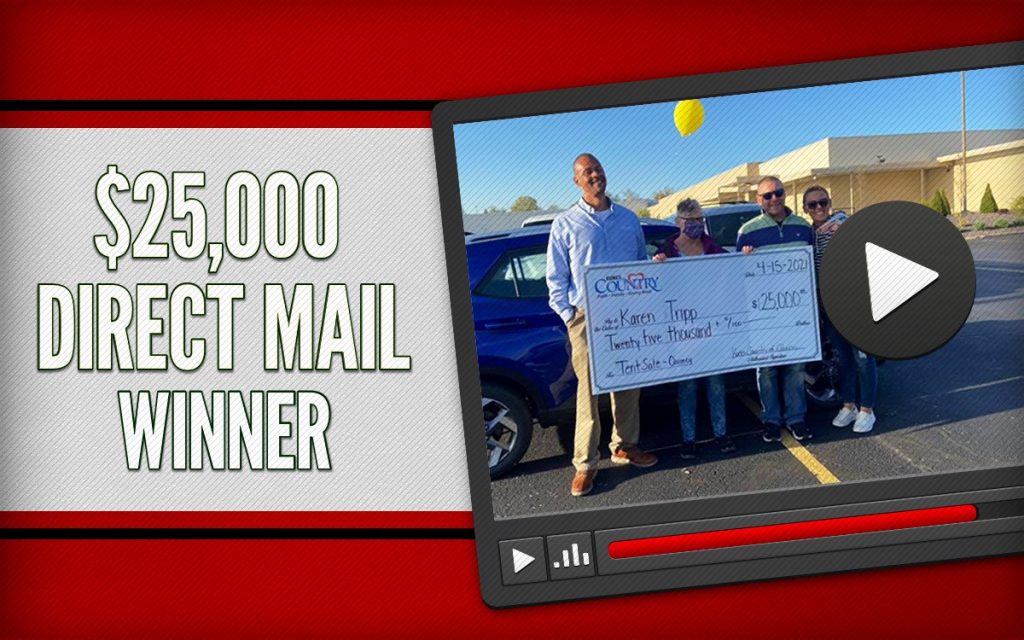 Watch Tripp being awarded with the $25K check!
This April, to promote their Spring Savings Tax Time Tent Event, Kunes Country Auto of Quincy, working in conjunction with PERQ, sent a bar-coded direct mail piece featuring the chance to win a new car valued at $25,000, or $10,000 towards the purchase of any vehicle on the lot, both to be paid for by Odds On Promotions, as well as other enticing prizes provided by the dealership.
Each mailer featured a pull-tab component that indicated what prizes the recipient could win if they brought the barcoded mailer to be scanned at the "Tax Time" sale. Ironically, on April 15th, Tripp, who was considering going to another dealership to take a test drive, decided to go to the Kunes sales event to see if she had won. Once at the dealership, she spoke to a sales team member who scanned her mailer and informed her that she had not only won a prize, but she had won the $25,000 grand prize, insured by Odds On.
Looking for an effective way to drive traffic and add excitement to your next event? Want to have a tax day promotion winner of your own? Odds On has a variety of promotional ideas that will help you maximize the return on your advertising investment.
For more ideas for boosting direct mail, online or traditional advertising give us a call at 888-827-2249 or visit us at OddsOnPromotions.com.