Longview, Tex. –  Mike Hunter of Longview won a brand new $33,000 truck, paid for by Odds On Promotions, during the KYKX 105.7 Big Bass Bonanza.   Hunter won his new ride when the bass he caught weighed in at exactly 5.700 lbs.
According to Harlen Lobley, Director of Sales for Alpha Media, the multi-day tournament is one of the best-known fishing events in East Texas, attracting roughly 1500 anglers. Along with the chance to win a truck in the Exact Weight Match promotion, the tournament also featured hourly prizes and a grand prize package valued at over $100,000.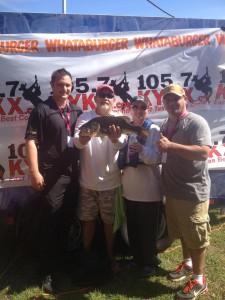 "We've been running the Exact Weight promotion for many years now. We chose 5.700 because one of our stations is 105.7.  Mike thought the fish was about 5-6 pounds so he figured he had a good chance to win $300 for catching the 2nd place big fish that hour.  It was a real shock when we realized the fish weighed in at exactly 5.700," explained Lobley.
"We've had anglers come close before but this was really exciting. Folks are still talking about it," he continued.
While Hunter won his choice of two trucks ( a 2015 Toyota Tundra courtesy of Patterson of Marshall Toyota Scion or a 2015 Dodge Ram 1500 courtesy of Patterson of Marshall Chrysler Jeep Dodge Ram), he opted for the Toyota.
"Our Odds On Representative, Evelyn Golding, is fun to work with. She's prompt, professional and has great ideas. We've done several promotions together…  Mystery Mascots, Hot Air Balloon dice drops, Lucky Reindeer –  but this was our first winner.  The claims process went exactly as I expected it would.  There were no problems – no surprises. Everything went as expected. I figured it would take a couple of weeks, and that's exactly how long it took. I was very happy with the claims process and the contest sponsor is very satisfied," noted Lobley.
Interested in planning a fun promotion that's sure to get people talking?  Swing by our website or give us a call today at 888-827-3349 to learn how you can incorporate a giant prize promotion in your next event.