Wesley Chapel, Fla. –Charles Schmidt recently won $20,000, courtesy of Wesley Chapel Hyundai, and paid for by Odds On Promotions, during Wesley Chapel's $20,000 Moneyplay prize giveaway.   Schmidt won big cash prize after he scanned a barcoded mail piece at the dealership.
The scan and win direct mail promotion, which was developed for the dealership by Traffic Advertising and PERQs, gave recipients the chance to win a variety of prizes ranging from gift cards to iPads to  golf carts,  simply for presenting the mailer at the dealership and scanning the barcode to find out what they had won.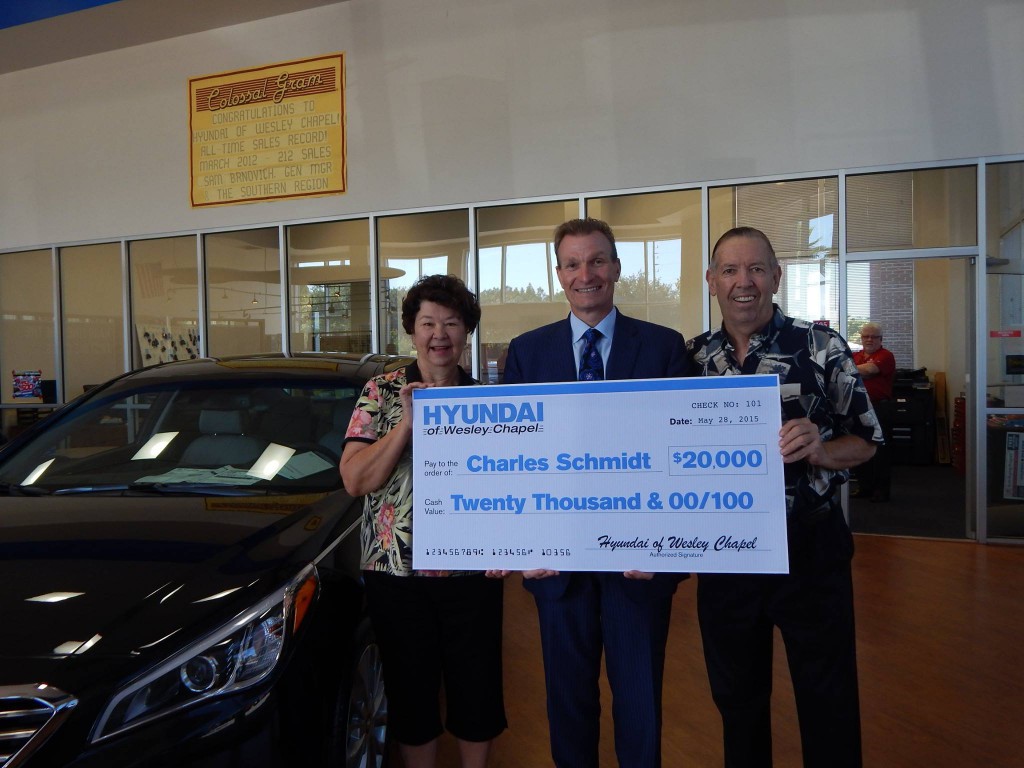 According to Allyson Frazier, Account Coordinator with Traffic Advertising, the dealership's advertising agency, "We run several promotions with a number of different dealerships and we offer a variety of prizes.   It's one thing to give away gift cards, and iPads  – but giving away such big prizes like a car or the chance to win $20,000, it really does make a difference. The big prizes bring people in, they get people excited. Maybe they aren't expecting to make the purchase, but they end up buying because they are there. "
"Not only was this mailer effective in driving lots of foot-traffic, but the dealer sold cars.  And of course, everyone was so excited that we had a winner. I think Mrs. Schmidt was even more excited than Mr. Schmidt, " continued Frazier.
And as for the claims process, "I was there when they presented the check. The turnaround took a few weeks, but the process was very smooth. It wasn't difficult at all," explained Frazier.
Looking to drive more ups? Want to get a bigger impact from your next mailer? Email or give Odds On Promotions a call today at 888-827-2249 to learn more about giving everyone who received your direct mail the chance to win a life-changing prize.