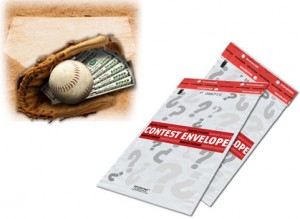 Are you looking for a fabulous baseball contest idea that will excite your fans and draw a crowd to your next big game?  How about theming the promotion around your fanbase, just like this Minor League Baseball client of mine in the Southeastern U.S. did during their One Millionth Fan Celebration!
Here's how this particular baseball contest idea worked: The "nth" (in this case, the 1,000,000th) fan that walked through the turnstyle was selected to participate in a Lucky Envelopes promotion for a chance to win big after the 7th inning of the big baseball game that evening!  This "Pick 'Til You Win"-style promotion gave the lucky fan the opportunity to choose from 5 of 40 money bags, each of which contained an envelope.  If the fan happened to choose the five envelopes which happened to contain matching grand prize inserts, they would have won $1,000,000… paid for by Odds On Promotions!
The promotion doesn't just end there, however!  The best part about using our "Pick 'Til You Win"-style Lucky Envelopes game as a baseball contest idea is the fact that the contestant is a winner regardless!  Two other prizes were up for grabs: a $30,000 vehicle, also insured by Odds On, and FREE tickets for LIFE — self-insured by the baseball team!  It was just a matter of which 5 matching inserts were collected by the fan first!
Unfortunately, while the fan didn't end up scoring the $1,000,000 insured prize, she still received two free tickets for life!  Want to give your "nth" fan the opportunity to bring a guest to come see your team play for the rest of their lives?  Better yet, want to offer an insured grand prize of up to $1,000,000?  Odds On Promotions can make it happen with one of our baseball contest ideas!  Give us a call today at 888-827-2249… or email us with any questions!
P.S.  In need of more baseball contest ideas other than a Lucky Envelopes game?  Visit our website!