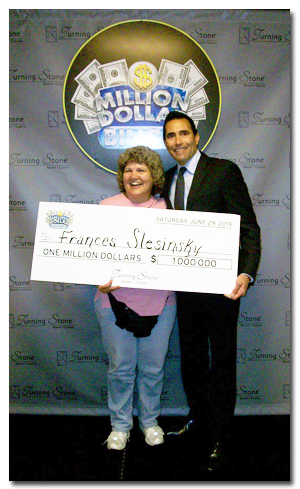 Verona, NY – On June 29, 2013, Frances Slesinsky of Binghamton won $1,000,000, courtesy of Turning Stone Resort Casino and paid for by Odds On Promotions. Slesinsky won the enormous cash prize, the largest jackpot in Turning Stone's 20-year history, during a Million Dollar Matinee Bingo Session.
During the final game of the session, the casino offered a minimum payout of $25,000 for Level 3 players. However, if any player was able to cover all the numbers on a bingo card in 47 draws or less, they would take home a million dollar jackpot, which was insured by Odds On Promotions.
As luck would have it, Slesinsky got the final number she needed, "I-26", on exactly the 47th draw, landing her in the Turning Stone record books and scoring a life-changing million dollar prize.
The million dollar promotion was the first event of Turning Stone's month long 20th-anniversary celebration, which ran from June 29th through the end of July and featured big ticket giveaways, major casino gaming tournaments, special parties and events.
Interested in making a millionaire at your next golf tournament, special event or matinee bingo game? Give Odds On a call today at 888-827-2249 or visit our website at www.OddsOnPromotions.com.