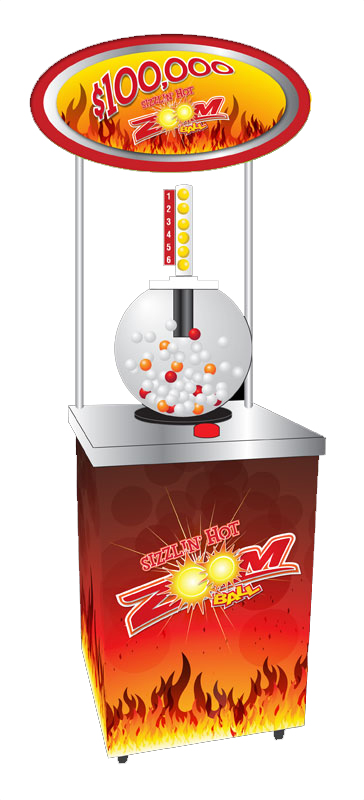 Are you a bingo hall looking to target those days and times with lower traffic and play ?  Odds On's prize indemnity insurance and traffic-driving casino promotions are designed to help you generate incremental gaming revenues.  Evelyn Golding, Southeast Business Development Manager with Odds On Promotions, explains how one property in the South did exactly that.
During the specified promotional period, players had a chance to participate in one of Odds On's most attention-grabbing contests — a Zoom Ball promotion!  The summer-themed "Sizzlin' Hot" Zoom Ball machine consisted of white and red balls.  If a player managed to get 6 red balls into the machine's "Zoom Zone", then they'd leave an instant $100,000 winner that day… compliments of Odds On!
"While we do insure actual bingo promotions, such as our Bonus Prize Bingo promotion, it's always a good idea to 'mix things up' every once in a while, the noise of the ball blower coupled with the flashing LED lights created a lot of hype.  Plus, Zoom Ball allows you to award your players with smaller, sponsor-insured prizes for collecting fewer winning balls in the machine's Zoom Zone," notes Golding.
Interested in insuring a bingo promotion of your own?  Whether it's Bonus Prize Bingo or any one of our many available stock Zoom Ball themes, feel free to give one of our marketing specialists a call today at 888-827-2249 or email us.  We can find the perfect promotion for your bingo hall that will have your players going wild!
P.S. Be sure to ask about a customized Zoom Ball theme of your own!  We can accommodate you!